The solar industry can't grow to the scale it aspires to without help from allied industries. Like water and sun to flowers, solar must be fed by electricians, inspectors, real estate agents and every other industry that touches it in order to flourish.
Solar PV installers were the fastest-growing job in the country in 2018, according to the Bureau of Labor Statistics. But despite that powerful news, there is a hiring problem in the solar industry. The Solar Foundation found in its "2018 National Solar Jobs Census" that a high number of companies reported it was "very difficult" to hire qualified workers.
Bringing awareness to workers in allied industries with transferable skills — like those in construction or roofing — is one important way to help keep the solar workforce growing.
Easing solar adoption from the top down
Solar installations in every sector — residential, commercial or utility — do not exist in a vacuum. They affect the communities where they're installed in many ways. Code officials must know how to permit the installations. Firefighters must know how to disconnect the systems in case of emergencies. Appraisers and realtors must know how to properly value rooftop solar systems when it comes time to sell homes. And the list goes on.
Bringing those different industries into the conversation early on ensures solar can be integrated into a community as seamlessly as possible.
"If we are to realize these clean energy goals that we all have, literally every profession is going to be in some way maybe not touched by solar, but by some clean energy or sustainability competency that they need to have [or] consciousness they need to bring to their work. It's not going to be just people working in the energy field thinking about these issues," said Laure-Jeanne Davignon, VP of workforce development for the Interstate Renewable Energy Council (IREC).
Davignon said it's important for the solar industry to be part of the conversation when allied industries are discussing topics that will eventually affect solar — whether these talks are about technical issues, safety issues or anything else related to it. She added that these other industries "have the ability to make or break our market," in the form of too-restrictive solar permitting due to lack of understanding or other factors.
"As solar grows in new states, our partnerships with those allied industries are super important. It's an adjustment for roofers when solar panels are now on a roof that they need to fix. It's an adjustment for firefighters to address and utilize those spaces, and I think folks would rather be informed and engaged earlier on than later," said Erika Symmonds, VP of workforce development and service learning at GRID Alternatives.
She also sees this engagement as mutually beneficial for the end-users.
"Allied industries have customers. We are all kind of sharing a group of customers. The more we know about each other, [the more] we can support each other's work and coordinate better together in regard to providing services to the clients that we share," Symmonds said.
While solar power's potential is becoming more mainstream, due in part to media coverage, renewable energy commitments and mandates at local and state levels, the installation logistics, safety and value of solar still remain a mystery to many. Misinformation coming from the highest level of government adds to this roadblock, so the industry itself must work to engage allied industries and educate them on the facts of solar power.
"We also want these allied professionals to understand that we are part of the solution when it comes to safety and ensuring that professionals have the competencies they need to interact with solar technology," Davignon said.
Expanding and diversifying the solar workforce
There is a skilled labor shortage in the United States, and solar isn't exempt from that despite its fast-growing, well-paying jobs.
"In order for the solar industry to grow, we need a strong workforce," Symmonds said. "There are folks in allied industries who can be recruited into the solar industry and bring a lot of skill to it."
Not only does expanding the reach of the solar workforce benefit the industry, it also benefits job seekers. Symmonds sees construction and utilities as the two industries with the most transferable skills to solar.
Underemployed communities have the most to gain from allied industry cooperation. Symmonds said in today's economy, workers switch jobs relatively frequently. She's found that including solar in the toolkit of underemployed construction or energy-related workers can help them be "as adaptable as possible so you can maintain finances and go with the ebbs and flows of the economy."
"I think exposure to an education on related and allied fields is an opportunity for career exploration, but also recognizing the talent that you have and how it relates to other industries so that you can make yourself marketable in different spaces," Symmonds said.
Davignon said one way to increase awareness of solar jobs and bring more diversity to the industry is for solar groups to partner with advocacy and job placement groups like Community Action agencies, workforce development boards and more. Veterans also tend to have transferable skills for installation jobs, so engaging vet services groups can be fruitful. She said when the baseline training of allied groups is sound, it's just a matter of making connections with the right groups and doing the matchmaking.
Career opportunities in solar are of course not limited to installers on the roof alone.
"The most visible occupations definitely do not tell the full story, and so that's why IREC produces things like the Solar Career Map," Davignon said. "This is endemic to the trades. When people say 'trades,' you envision your plumber, someone like that. A lot of these trades now, they're still hands-on, but they're highly technical."
Davignon said that there are plenty of great career opportunities for skilled laborers in solar, but there are also plentiful desk jobs for other important segments of the industry.
Strategies for allying
Just as the solar industry has many trade associations, advocacy groups and other uniting organizations, other allied industries do too. Davignon said when IREC sets out to engage with another related industry, it tries to do so in partnership with organizations that are already established, whether that's other trade associations or organized labor groups.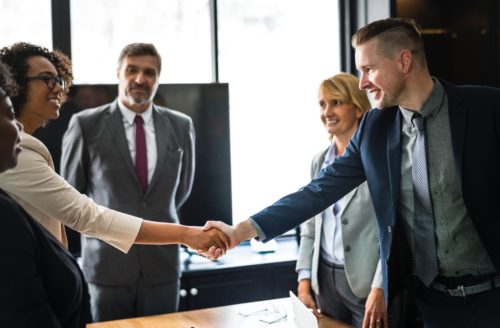 "We're very conscious that there's already workforce frameworks in place," Davignon said. "There are things like certification and other elements that have been put in place by the subject industry to ensure the quality of their own workers, and it behooves the solar industry to fit in to the existing game versus try to create our own pathways for these organizations."
One way IREC has used this integrative model is through micro-credentialing — an easy way to make solar an "add-on" skill for related professions. An example of this strategy is IREC's partnership with the National Apartment Association, where IREC added an energy efficiency micro-credential to the group's existing certified apartment maintenance technician track. The add-on credential covers everything from recognizing when energy efficiency maintenance is needed to sourcing contractors to communicating with residents about energy efficiency. This strategy could be used similarly with solar, adding solar installation as an add-on skill for roofers or builders or other related fields.
"There's just amazing flexibility and a lot you could do for professions that don't need a NABCEP certification in solar — they need a tight subset of add-on skills to their existing competencies to help them inspect a solar system or whatever the case may be," Davignon said.
Symmonds said, from a workforce development angle, the key to engaging allied industries is to work with these allied organizations when developing training programs to maximize resources. She said it's important to be present at allied industry conferences and other gathering spaces as well as invite allied industries to solar events to start important conversations there.
"When energy folks come together overall, it's a good thing to do — understand each other, see the overlaps, have conversations," Symmonds said.
Pete Jackson, chief electrical inspector for the city of Bakersfield, California, is a shining example of a cross-trained worker in an allied profession. He's a solar supporter and has an array on his own roof, but he is a traditional electrician by training. He finds himself in the middle ground between the solar industry and the important closely allied industry of electricians and has seen the struggles and successes of bridging the gap for mutual success. He personally works to ally the professions by leading trainings on solar energy for other inspectors.
Jackson said the solar and electrical industries are still working through a culture clash that started when the 'cottage' industry of solar suddenly became big business. He's a member of multiple electrical organizations, including the International Brotherhood of Electrical Workers (IBEW) and the International Association of Electrical Inspectors (IAEI).
"In this state, we're making changes in our electrical organizations and our inspector organizations and creating some new ones that include the solar industry so that we're all in this together," Jackson said. "I think one of the weaknesses of professional organizations out there is everyone has one, they all join it, but they don't talk to the other organizations — they just talk to themselves."
He and others at IAEI have encouraged solar installers to join the group and come to meetings to have their point of views heard. He's also worked with renewable energy advocates to form a new group for solar stakeholders and allied industries called the Sustainable Energy Action Committee, comprised of installers, manufacturers, inspectors and more. The group's mission is to help California meet its ambitious RPS goals. Jackson thinks the state level has the most promising potential for allying the various groups that have a shared interest in energy.
Jackson said the solar industry has some work to do in the realm of collaboration with various allied entities as it grows into a large national energy source.
"They always feel like they're being persecuted and punished and inspectors are mean to them and, given, a lot of inspectors in jurisdictions don't know what they're doing when it comes to inspection of these systems, so I agree that's a problem and one I'm doing all I can to fix," Jackson said.
He said although solar is a relatively new technology, the problems the industry faces in integrating into the traditional electrical system aren't new. So it could stand to learn from closer relationships with inspectors and electricians — and solve problems early on instead of taking them to the legislature as a first step.
"I have some ideas that I think would be more effective than getting legislators who know nothing about technology just to pass a law," Jackson said. "I'm not saying that legislation is not a critical part of the process, of course it is, but for proper things, for proper elements, not necessarily for technical elements and inspection and safety and all that."
He thinks a better strategy is engaging with inspectors on a personal level and working together on solutions. As the brand-new technology of energy storage enters the mix on a large scale, engaging every allied industry that touches solar-plus-storage will become even more important to both workforce development and industry viability.