With an expected Dec. 15 commission vote looming, the California Solar & Storage Association (CALSSA) is still hoping to convince the California Public Utilities Commission to make more changes to NEM 3.0, the next step in the state's solar net-metering program. CALSSA is using all tools at its disposal — from public pressure to conversations with commissioners — to push for some final tweaks to the new net-metering regime.
"This is going to hurt no matter what, but right now it's pretty devastating pain," said Bernadette Del Chiaro, executive director of CALSSA.
Above all, the group is seeking higher export compensation rates for a more gradual "glide path" than the one laid out in the proposed decision (PD). CALSSA's original proposal to the CPUC was an eight-year glide path, but the PD features a five-year path with a 75% average decrease of exported energy value from NEM 2.0 in Year 1. CALSSA says that glide path is more of a cliff.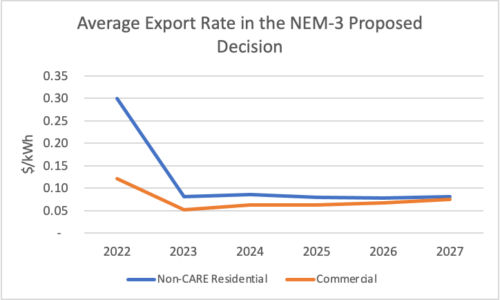 The structure for the new net billing proposal includes base hourly export compensation rates with a different 24-hour profile for each month and for weekends vs. weekdays. Solar customers also receive a small avoided cost adder in PG&E and SCE territory.
The CPUC has emphasized that a primary goal of NEM 3.0 is to encourage more people to pair solar with storage to dispatch solar to the grid when it needs the power most. But CALSSA believes these changes are not nearly comprehensive enough to support the growth of an entirely new industry.
"Nobody should have to open up this [Avoided Cost Calculator] chart each day and see if they should reprogram their battery. We're not there yet. This is the whole idea of the [glide path]," Del Chiaro said.
CALSSA is also pushing for more parity for the commercial sector in NEM 3.0, including schools, apartments, farms and other entities. While residential customers in PG&E or SCE territory receive a small avoided cost adder, commercial customers receive no adder in the PD.
"They're treating commercial pretty roughly," Del Chiaro said.
The CPUC is accepting comments on the PD until Nov. 30. CALSSA is contributing to those comments, talking to commissioners directly and organizing a day of rallies on Dec. 1. The rallies will take place in cities across the state, from San Francisco to San Diego, from 11 a.m. to 12 p.m. PT that day.
According to the CPUC's proceeding brochure, an Alternate Proposed Decision can be filed by a commissioner prior to the final vote. In that case, the commissioners consider the PD and the Alternate Proposed Decision at the Voting Meeting. CALSSA will be pushing for an alternate proposal until that day.